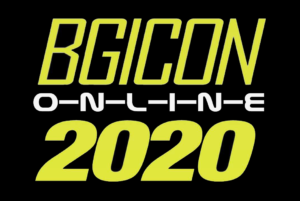 BGIcon – Online – Dec 5th
BGIcon is our annual board game convention and we're going to try and run it online this year.
We will organise to play games all day online. There's a large number of options available from Tabletop Simulator to Board Game Arena. And there's lot of dedicated apps for boardgames available on Steam. Here is a huge list of options that has been collated into a handy PDF:
https://drive.google.com/file/d/1NO-05LM-SakbwqNajBXgIO4HuCSkBd6n/view
We'll organise via a Discord server that will be set up. Discord gives a pretty good free way to do online voice chat and lets us set up multiple channels for different games being played on the day.
You can find the Discord here:
How Much?
Free! I'm not charging for this and hopefully if it works well we can use it as a replacement for the regular meet ups until things can get back to normal.
But Doesn't Board Games Ireland and BGIcon have operational costs to meet?
Yes. So I'll be running a special raffle and once our humble operating costs are met the remainder will be donated to charity. The logistics of receiving prizes might be a little awkward, but I'll be offering some pick up points in Dublin city and also offering Parcel Motel as an option for those who want to pay for it.
Up for grabs in the raffle are the following:
Code names Bundle with Pictures and Duet.
Spyfall
Sea of Clouds
One Night Revolution
Sushi Dice
Metro Paris 1808
Diamonds
Wordsy
Xanadu
We Didn't Playtest This Bundle
Bananagrams
Mai-Star
Doctor Who – The Card Game
Release!
Marrying Mr. Darcy
Sherlock Holmes – The Card Game
Wallace and Grommet's Fleeced
Time'n'Space
King of New York
Clocks
Travel Blog – Europe and USA
Gravity Maze
10' to Kill
Council of Verona
Loop Inc.
504
Harry Potter – Scene It?
James Bond 007
Beasts of Balance (Exclusively signed by popular 90s comedian Richard Herring)
Redacted
Targi (German, but mint)
Dance of Fireflies (mint)
The bulk of these were donated by long time member Frank O'Connor so not brand new but in excellent condition.
You can enter by sending €5 to the following link:
Entering will also nab you a special profile on the Discord server, so be sure to leave your discord name in the note field.
What can you do to help?
Well, like our regular meet ups we're nothing without the people who run the games and explain the rules. So we'll be looking for people to offer to run games on the day so people can sign up.
If you want to run a game then please fill in the following form:
https://forms.gle/HYWz5jq5HAdCDqsx7
We'll then let people sign up to the game you want to run.